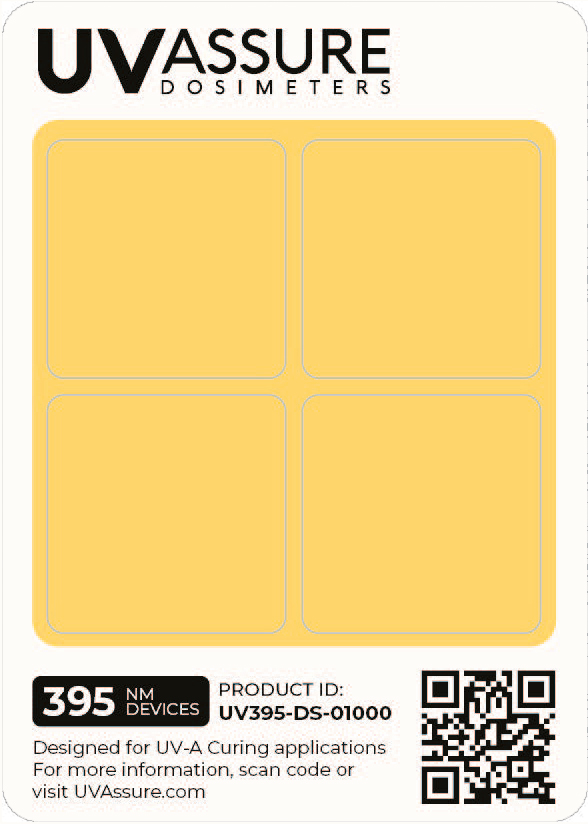 UV Assure Dosimeter Stickers
0-1000 mJ/cm² range
1″ adhesive stickers
Four indicators per card
7 cards per pouch / 28 total indicators
UV Assure Dosimeters provide a visual indication of applied ultraviolet energy during UV Curing processes. Unlike bulky and complex radiometry equipment, UV Assure dosimeters are ultra-thin, flexible and adhesive so they can be used in tight spaces and on dimensional surfaces to provide an accurate dose measurement with ease.
Colorimetric dose indicators for UV-A (395 nm) – Ultraviolet dose measurement for UV-LED Curing applications
PLEASE NOTE: This product is designed to work with 395 nm UV-A devices.
Product details
2.5″ x 3.5″ sticker cards with with four indicators per card.
Designed for use with UV Curing equipment using 395 nm.
Color-indicates 0-1000 mJ/cm²
Single use only. Do not reuse.
7 cards per pouch / 28 total indicators
MOQ 200 units (8 bags).
3-year shelf life.
Store at room temperature in original packaging and away from direct sunlight.
Private label and customization available for orders of 10,000+
Instructions for use
To use, place the dosimeter sticker with the yellow indicator area faced toward the UV-LED

 light source.

After the curing process is done, confirm the color change on the cards or dots immediately or within 24 hours for best results.
UV Assure Dosimeter stickers are intended for one-use-only and should not be reused. Store at room temperature and away from direct sunlight.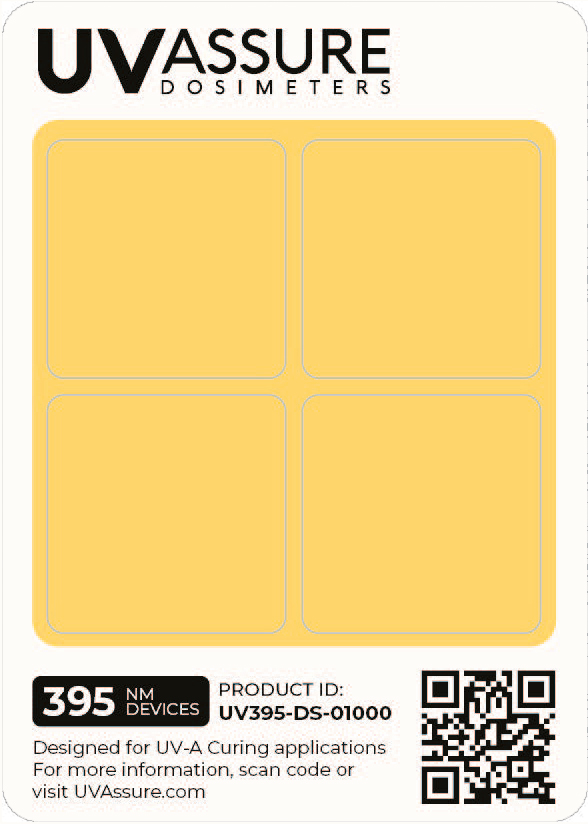 0-1000 mJ/cm²
range stickers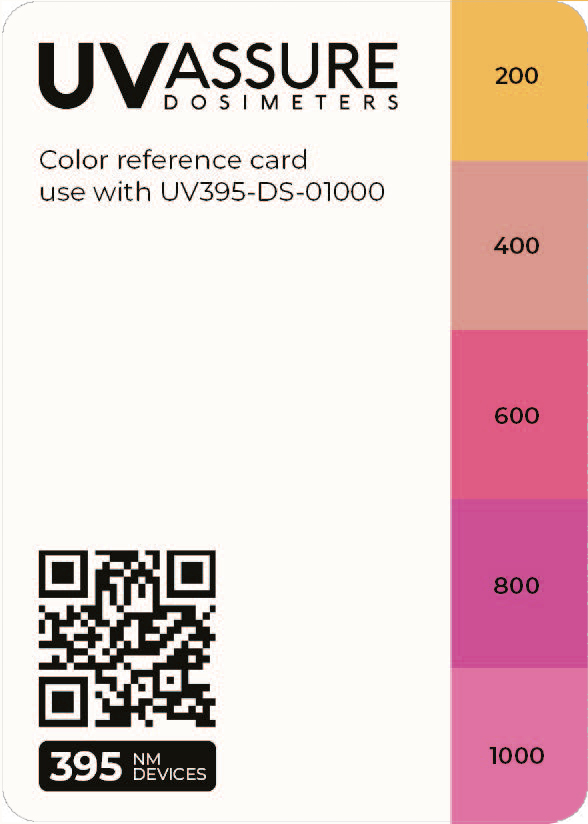 Color Reference Card
For illustrative purposes only. Actual product may vary in color.
Patented photochromic ink changes color to indicate the level of UV-C irradiation on surfaces (254 nm).
Visibly demonstrates the accumulated dose of UV-C so you can confirm that a surface has received an optimal dose of ultraviolet irradiation during your Curing process.