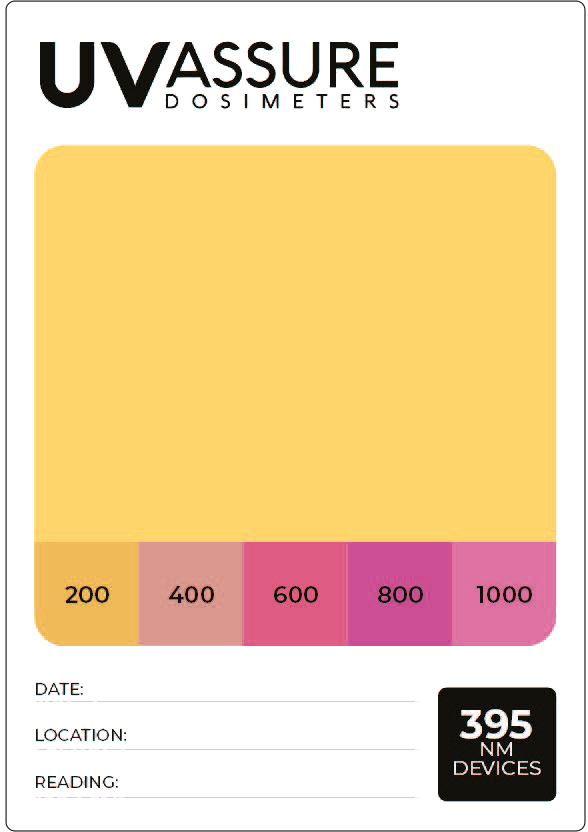 UV Assure Dosimeter Cards
0-1000 mJ/cm²

range
2.5″ x 3.5″ inch cards with adhesive strips
28 indicators per pouch
UV Assure Dosimeters allow you to ensure your materials are receiving an optimal dose of ultraviolet irradiation during the Curing process. Designed, tested and manufactured in Sweden, UV Assure Dosimeters provide real-time, easy and accurate validation of the UV dose to support your manufacturing processes.
UV Assure Dosimeters are offered in three measurement ranges for use with UV Curing equipment using 395 nm.
PLEASE NOTE: This product is designed to work with 395 nm UV-A devices.
Product details
Thin (0.2 mm), fl exible indicators for
use in narrow spaces
Designed with adhesive backing for placement on any object or surface
Intended for use in curing with UV-LEDs at 395 nm
Indicator temperature tolerance: 15-70° C | 59-158° F
3-year shelf life
Single use only
Packaged in resealable mylar pouches
Private label and customization available
Polypropylene material is recyclable
Store indicators in original packaging at 0-40° C | 32-104° F
Keep away from direct sunlight
Instructions for use
To use, place an indicator on any surface or material that will cured with UV-A LED devices (395 nm). Make sure the yellow indicator area faces the UV light source. After exposure, use the color reference to determine if the desired dose of UV energy (mJ/cm²) was achieved.
UV Assure Dosimeters are intended for one-use-only and should not be reused. Store at room temperature and away from direct sunlight.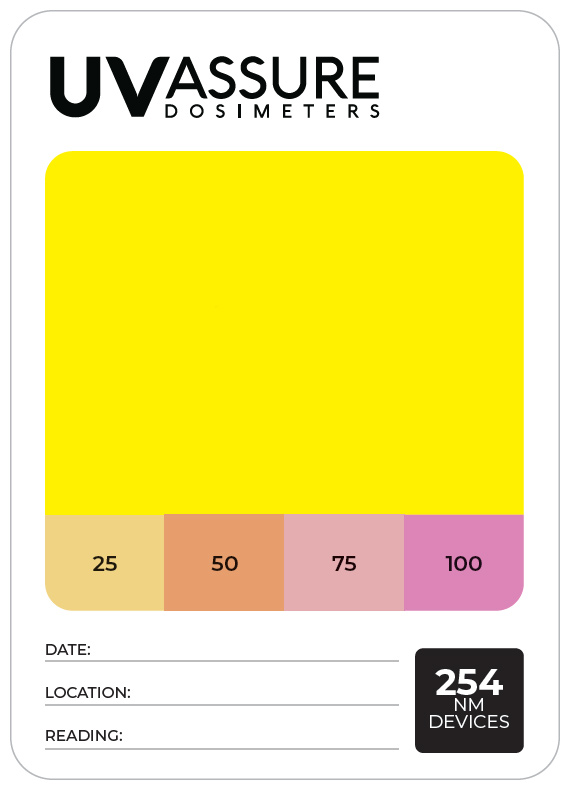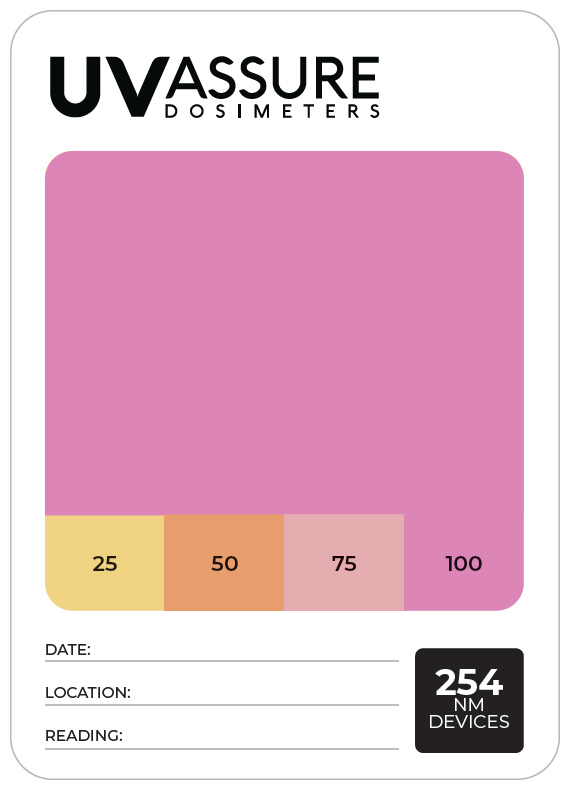 For illustrative purposes only. Actual product may vary in color.
Photochromic dose indicators provide visible measurement of applied UV energy (395 nm) in a dose range up to 1,000 mJ/cm.
Visibly demonstrates the accumulated dose of UV-A so you can confirm that a surface has received an optimal dose of ultraviolet irradiation during your Curing process.